COREMOTE Tactics
Manage your mobile field force and create and share situational awareness across critical communications networks
Create and share situational awareness
COREMOTE Tactics is a situational awareness, automatic vehicle location management, fleet management and dispatching solution for user organisation managing a mobile field force.
This future-proof system enables user organisations to manage their mobile field force and create and share situational awareness across different (hybrid) Critical Communications Networks.
For control room and office
Creates real-time situational awareness for the office and control room users about the location and status of the fleet.

Creates a full history of the fleet, unit mobility and utilisation for reporting and analysis purposes.

Supports shared situation screens.

Automatic or manual assignment of incidents to Control Room Dispatchers.

Gives advanced tools for fleet automation (e.g. geofences, distance and speed monitoring).

Allows indoor positioning in suitably equipped buildings.
For dispatchers
Collects context information from sensors, cameras and detectors deployed in the field or with mobile units.

AVL + GIS

Dispatching incidents/events to field units over messages and voice.

Incident history and data management.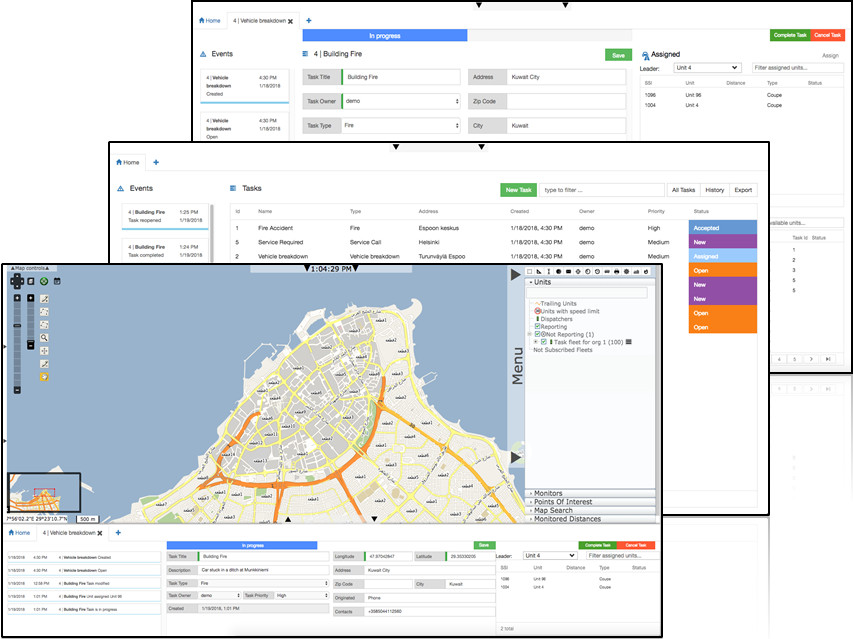 For field units
Radio and mobile clients for convenient view of incident data and status reporting.

Rich media feeds (Mobile video, CCTV).

Manages the automatic location reporting from mobile devices (TETRA radios, tracking devices, smartphones) using available network.

Allows managing tasks and incidents from the field.

Provides situational awareness and team collaboration tools for the field units.

Enables shared plans.

Makes smart devices (smart phones, tablets etc) real professional communication tools by providing tactical features (man-down, ambient listening, emergency status) to COTS devices.